I always feel like a goddamn octopus trying to coordinate everything right before Chinese New Year. SCRUB THE HOUSE CLEAN! GROOM YOURSELF, TWEEZE, WAX AND POLISH EVERYTHING! WHERE ARE THOSE PINEAPPLE TARTS, HAVE YOU ORDERED THEM YET?

This year's going to be all smooth-sailing. Never again will I spend another CNY feeling like a truck hit me. To all FiiT members, It's time to get our game on. Every single one of you has been given 800 free credits (worth $80) to claim the following vouchers to get your CNY under control. Best of luck!
*For those of you who have yet to activate your accounts, check your inboxes for an activation link or email us at ask@fiit.sg!
---
Checklist:
√ Get an array of goodies to make sure the house is well-stocked for house visits. (How can your gangly cousin even inhale that many almond cookies? Where do all the calories go?)
√ Buy some cookies to share and gain brownie points at the office
Time is of the essence. Place your order early at Werner's Oven, home of the 'tok kong' peanut cookies. Interestingly, Werner's Oven is actually a German restaurant but the restaurant proprietor, Nancy, bakes CNY cookies. Time to impress your mum and actually get those CNY treats on time, hehe.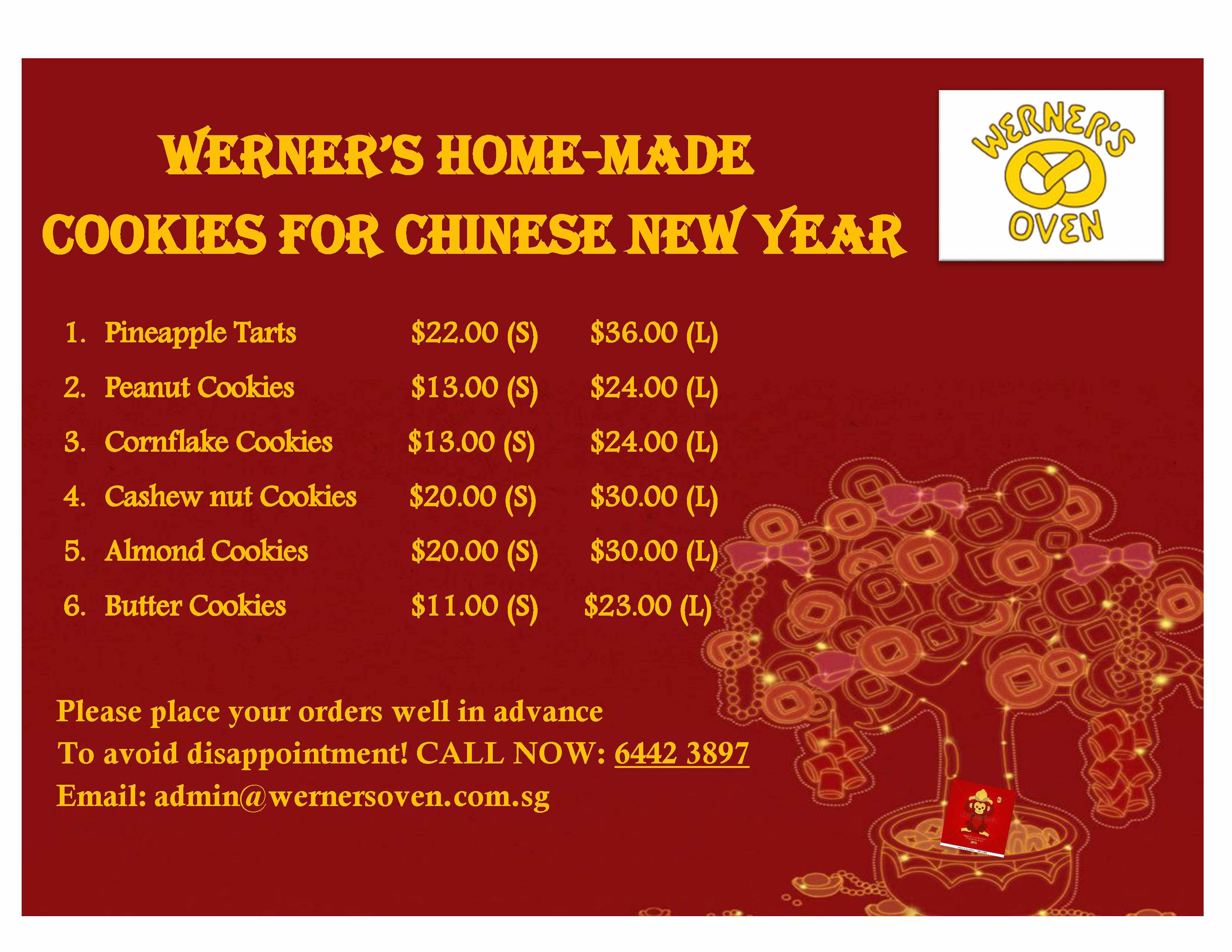 FiiT Members Special: Flash voucher for 10% off everything in the restaurant, including the CNY goodies. Redeem your voucher at get.fiit.sg.
---

2. Prepping 3 Days' Worth of CNY Outfits
Checklist:
√ Day 1
√  Day 2
√ Day X (For gatherings on the following weekend)
It pays to have a selection of outfits! What if you're gripped by a moment of uncertainty (or fickle-mindedness) on the morning of Day 1? Is that dress really appropriate for a family gathering? Will you look like a glitter bomb simply because all your cousins tend to wear nondescript colours?
FiiT Members Special: Get everything you need from ZALORA! Witness 15% off your spending storewide (plus the ever convenient free shipping above $40 and free returns). Redeem your voucher code at get.fiit.sg.
---

3. Extra Help With Spring Cleaning
Checklist:
√ Keep your mum's sanity intact
√ Keep your sanity intact
√ Keep everyone's sanity intact
The last minute rush to clean the house always leads to frustration and your mum wanting to tear her hair out. Helpling answers your SOS call with cleaning services available any day of the week.
FiiT Members Special: Get $5 off the first two bookings, voucher code redeemable on get.fiit.sg.
---

4. Blinding Your Relatives With Your Smile
Checklist:
√ Have a gleaming smile on camera
√ Hope that your dazzling pearlie whites distract your relatives from asking intrusive questions.
Those coffee and/or tea stains are really visible on camera. Better to get some whitening done at Nuffield Dental Clinic pronto, before they get thronged with bookings. Typical CNY rush, but hey, you get special perks!
FiiT Members Special:
| | |
| --- | --- |
| Package 1 | Package 2 |
| Zoom Teeth WhiteningSmile Makeover Assessment | Take Home Whitening KitComplimentary Whitening TraysConsultation & Examination |
| $850 (u.p. $1350) | $400 (u.p. $735) |
All rates exclusive of GST.
Redeem your voucher at get.fiit.sg.
---

5. Last Ditch Attempt At Exercising
Checklist:
√ Look better than everyone
√ Indulge in cookies, steamboat dinners and beers like you don't care
Time to trim that paunch a little. Zoom Park is Singapore's largest trampoline park that caters to both children and adults. Get your heart rate up and burn up to 1000 calories an hour while having a blast! Remember to check out their dodgeball courts, four-lane foam pit, tumble tracks and basketball slam dunk lanes!
FiiT Members Special: 10% off all jump rates, voucher available exclusively for FiiT members at get.fiit.sg.
Now go forth and conquer that CNY madness!
---
---
Here's something you'd love: An employee engagement platform to spice up your work life! Get free and easy access to an extensive suite of corporate benefits – maximise your savings with discounted rates for fitness gyms, selected F&B outlets, optical chains and many more. Get these privileges here at fiit.sg!