Not sure if LASIK is suitable for you? Fret not, we've got that covered! FiiT SG had the opportunity to understand more about this refractive procedure from the medical director of W Eye Clinic, Dr. Gerard Nah.

---
FiiT SG: How does LASIK work?
Dr Nah: LASIK uses a laser to make a partial thickness flap on your cornea which is then opened like the page of a book and another laser is used to sculpt the central layer of the cornea to correct your degree. The procedure is about 20 minutes long for both eyes. It is not painful although you may feel some pressure or stretchiness during certain steps of the procedure.
FiiT SG: What technology do you use for your LASIK procedures?
Dr Nah: The Femtosecond laser for creating the LASIK flap is the Intralase iFS150 which is the fastest laser made by Intralase, whilst the laser which corrects the spectacle degree is the Excimer laser is the Wavelight Allegretto.
FiiT SG: How long have you been performing LASIK?
Dr Nah: Since 2005.
FiiT SG: How long does it take for my eyes to recover and adjust after LASIK? Will I be able to go to work the next day?
Dr Nah: Vision is usually very good by the next day although it may take a few weeks to be totally stable. Most patients can resume normal daily activities the next day, however, as the medication regime requires frequent eye drops, it may be best to stay off work for the first 2-3 days so as to be able to comply well with the instructions for medication.
FiiT SG: I have severe myopia (1125 degrees for each eye). Will LASIK be able to give me 20/20 vision?
Dr Nah: 1125 degrees is quite high and will require a significant amount of correction. It is very possible for LASIK to give your 20/20 vision but would depend on how thick your cornea is to start with so that we can treat it safely.
FiiT SG: Can LASIK get rid of both my myopia and astigmatism? What are some other vision problems that require LASIK?
Dr Nah: Yes, LASIK can treat both myopia and astigmatism. LASIK may also be used to correct long-sightedness and help people with presbyopia (difficulty reading with age).
FiiT SG: My mother would like to correct both her myopia and cataracts. Should she go for LASIK surgery or a cataract surgery, or both?
Dr Nah: If she were my patient, my primary choice would be to perform cataract surgery for her which will most likely treat both her myopia and cataract. However, if any refinement of the resulting degree is subsequently needed, I could then use LASIK to do so.
FiiT SG: Is everyone suitable for LASIK surgeries?
Dr Nah: The majority of people are suitable for LASIK and a few are not which is why it is so important to properly screen patients for suitability before proceeding.
FiiT SG: Tips for our users: What are some good habits we should adopt to keep our eyes healthy?
Dr Nah: Stay healthy. Healthy body = healthy eyes. Eat lots of green leafy veggies and take fish oils. Don't forget to get plenty of exercise and rest for 5 minutes after every 30 minutes of reading or computer work.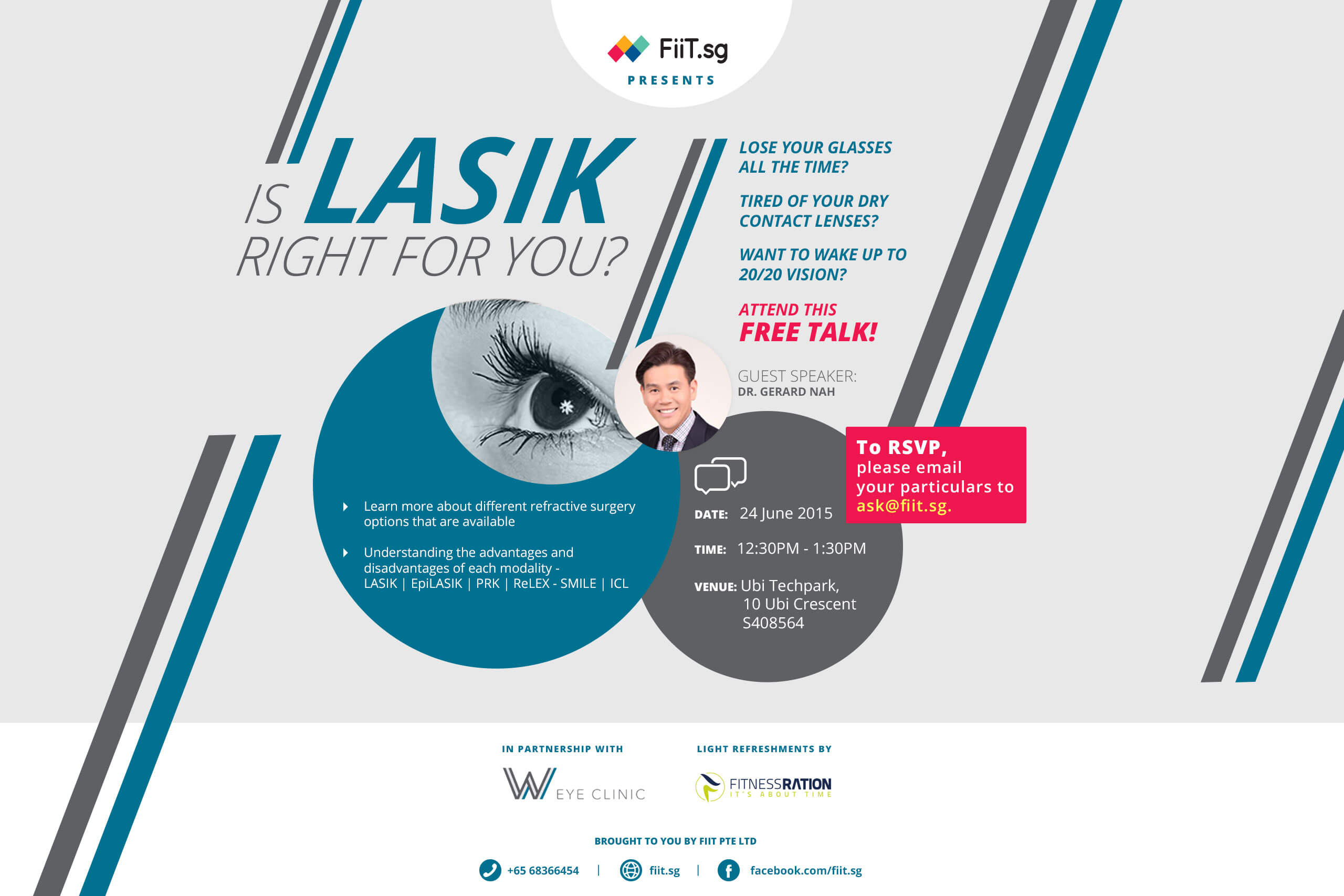 Didn't manage to get your answer? Don't miss the chance – attend Dr.Gerard Nah's LASIK talk and he will answer your questions! Drop us an email at ask@fiit.sg to RSVP. See ya there!
---
****
Here's something you'd love: An employee engagement platform to spice up your work life! Get free and easy access to an extensive suite of corporate benefits – maximise your savings with discounted rates for fitness gyms, selected F&B outlets, optical chains and many more. Get these privileges here at fiit.sg!