Psst. Giveaway details below! Read more to find out how to win 2 free Art Jamming sessions!
When was the last time you painted? For us, it was eons ago, until we had our first Art Jamming session at Hans Art Gallere! Upon arriving at their Boon Keng studio, we received a warm greeting from Mr Han, founder and art therapist of Hans Art.

It was a relaxing getaway from the hectic office on a Friday afternoon. Best of all? The studio is located in a quiet area along Boon Keng. Felt like a holiday resort – a good break from the bustling CBD.
---
And… Check out their amazing studio! Isn't this enough to brighten up your day? 🙂
The walls were decorated with quirky art pieces done by people from all walks of life. Certainly gives the place a unique personality, doesn't it?  It was cosy yet bright enough for us to paint without having to strain our eyes. Also, the studio is well ventilated to prevent the place from smelling like paint!
As you can see from the artworks on the walls, Hans Art offers more than just canvas painting sessions. We'll share more with you later!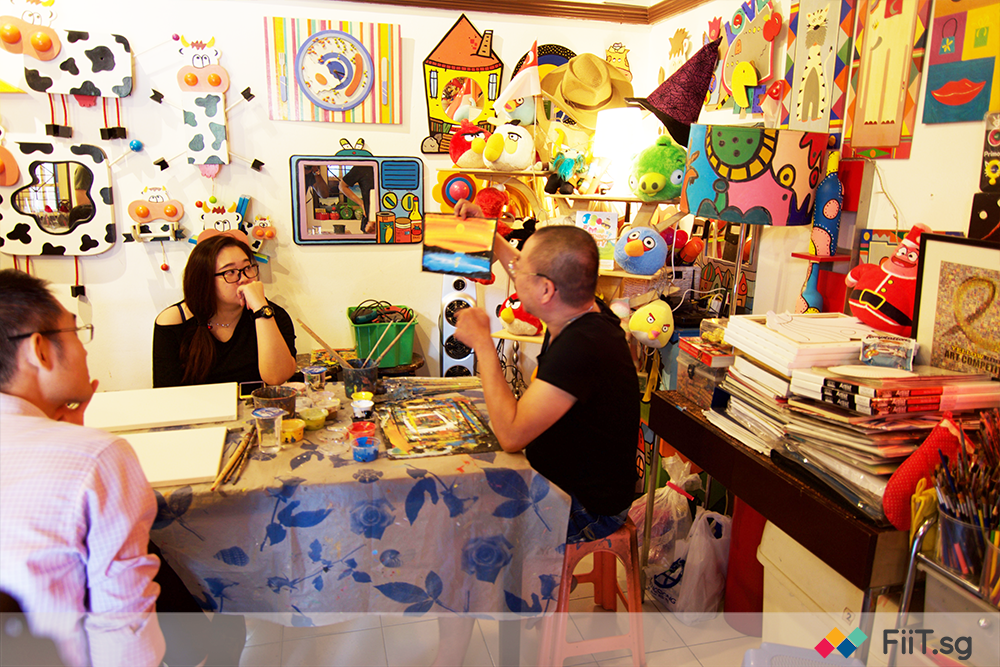 Hans Art has efficiently prepared everything we needed to get started. From the canvases, to brushes, rugs and paint – all of these were placed nicely on the table so that the session can get started once settled in. Conducted by Mr Han who is also the founder of Hans Art, it was like magic when he transformed an empty white canvas into a beautiful sunset scene. With brushstrokes like lightning, he literally finished the sunset painting in less than 10 minutes, all while explaining to us the techniques involved. Wow!
We loved how Mr Han taught us several useful painting techniques that we can apply on our canvas with ease. The techniques were really helpful for us beginners, so much so that all of us were super satisfied with our works! Some of the techniques included gradient-washing the background, dabbing and dotting. He even taught us tricks on how to draw trees and round subjects using different brush techniques.
The techniques were also super easy to pick up and apply. We actually felt that we've learned more during this art jamming session as compared to art lessons back in school.
The studio is also well-equipped with paintbrushes, paint and hair dryers. Hair dryers? It's for us to dry the paint so that we can experiment with both wet and dry painting techniques.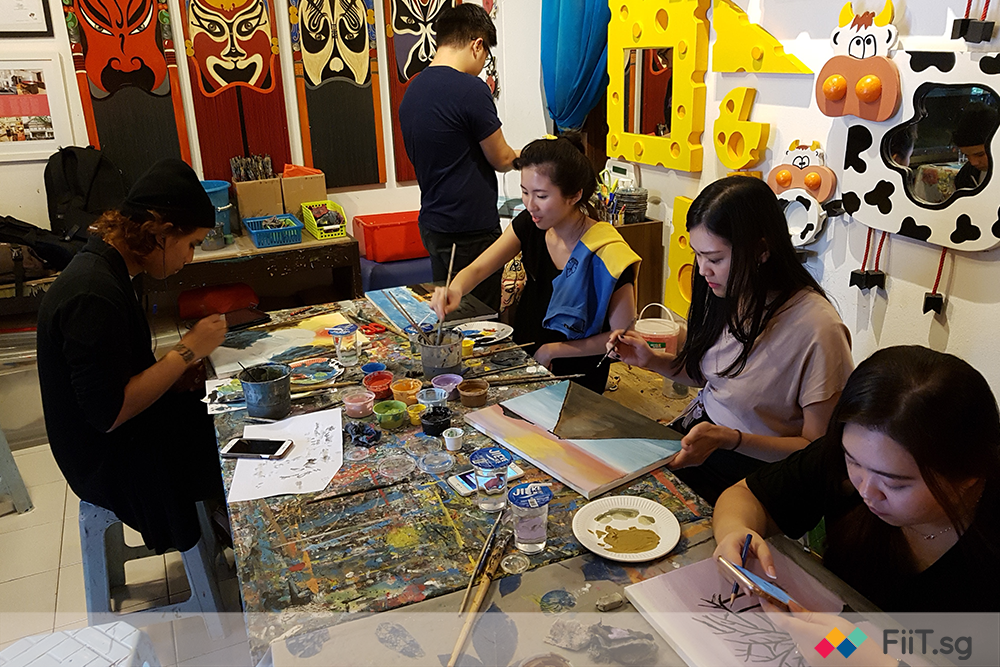 In less than two hours, we learned several useful painting techniques and created our very own artwork from scratch. The session doubled up as a fun and meaningful team bonding session too! It wouldn't have been possible without the encouragement from Mr Han!
The Final Look
So, wanna know how it turned out for us beginners? You're in for a pleasant surprise!
Like what you see? You can also art jam together with your friends and kids to turn the session into a fun-filled day for all.
You can, too, paint like a pro at Hans Art. All geared up to pick up the brushes? FiIT members can enjoy 50% off Art Jamming Sessions (Usual Price: $60) or 50% off Children's Foundation Module (Usual Price: $140).
Those who are keen to be a FiiT member, we heard ya. Simply fill up this form for a free trial account to get access to a myriad of deals and corporate discounts, including the above 50% off Art Jamming @ Hans Art Gallere!
Giveaway
We had a blast during our art jamming session and we'd want you to experience it too!
We're giving away 2 FREE sessions of Art Jamming Class at Hans Art Gallere to 2 pairs of fans!
Q: How to take part in this giveaway?
Just head over to FiiT.sg Facebook to participate in our contest! 😉
Other Services Available at Hans Art Gallere
Experiment with other art forms and get your right brain workin'! On top of Adult Creative Canvas Art Jamming sessions and Corporate Workshops, Hans Art also offers a wide variety of workshops for both adults and children ranging from art lessons, clock woodcrafting to clay moulding and more. Check out the full range of services at Hans Art here!
Here's something you'd love: An employee engagement platform to spice up your work life! Get free and easy access to an extensive suite of corporate benefits – maximise your savings with discounted rates for fitness gyms, selected F&B outlets, optical chains and many more. Get these privileges here at fiit.sg!