On 25th Aug 2015, the Straits Times reported that the STI has plunged by 128 points. And at the point of writing, the STI continues on its way down. People who are vested in the Singapore stock markets are starting to feel anxious about their potential losses.
As a young investor, will this phenomenon affect you, or is it actually an opportunity in disguise?

---
Before we think about the stock market movements, there is something more important that we should think about as investors.
"Why do you invest?"
Are you looking for short term gains or are you looking for a long term investment?
Are you looking to grow your money or are you looking to receive regular dividend pay outs?
In a downward moving market, it is difficult to achieve short term gains or to ensure regular dividend pay outs, especially if you are a new investor. So now, let's focus on long-term investing.
The Greatest Advantage That Young Investors Have
Young investors usually lack investment capital, however you have a longer time horizon to build up your investing portfolio. And time is your greatest advantage. Why?
With time, you are able to secure greater compound returns.
This is the difference in the compounded returns of $1000 grown at 8% for 5, 20 and 50 years.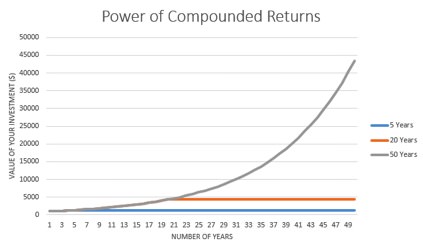 Notice how much the total sum snowballs over a longer time period.
The difference between an investor with a 5 years (blue) and a 50 years (grey) time frame is piercingly obvious.
And that is your advantage as a young investor.
Introducing the STI ELF
The STI has started its downward trend recently, is it crazy to think about investing at this time?
Well, not really.
Have you heard of Dollar Cost Averaging?
Dollar Cost Averaging (DCA) is a method of buying a fixed amount of a particular stock or fund, on a regular schedule, regardless of the share price.
As the share price fluctuates, you will end up with more shares when the prices are low and less shares when the prices are high. Hence, your investment evens out.
Now, DCA works best on a down trending market because you get to buy more as the market moves downwards and your portfolio starts growing once the market changes its direction. Hence, you can carry out DCA on a down trending market by buying the STI.
The STI is an index that is made up of the top 30 companies listed in the Singapore Stock Exchange. It is the most widely used indicator to represent the general Singapore stock market.
You do not have to buy all 30 companies to mimic the STI because there are exchange traded fund (ETFs) that have done this for you. And you can invest in these ETFs just like how you'd invest in any other stock.
You can learn all about the STI ETF and how you can invest in it here: http://www.bigfatpurse.com/straits-times-index-exchange-traded-fund-sti-etf-all-you-need-to-know/
How Everything Fits Into Place
So, now that you know about the power of DCA, especially in a downward trend market, and the power of compounded returns, how can you invest to maximise your advantage (luxury of time) while minimising your disadvantage (lack of capital)?
Here's how:
Step 1: Start a monthly investment plan that will allow you to purchase a fixed dollar amount of shares in the STI ETF regularly and invest diligently each month.
Step 2: Let DCA and the stock market do their thing as you ignore the market movements.
All the information you need to start a monthly investment plan has also been recorded here: http://www.bigfatpurse.com/straits-times-index-exchange-traded-fund-sti-etf-all-you-need-to-know/
Note: We do not make any commissions off your monthly plans, these are merely our own research into what is suitable for retail investors like us in today's market.
About BigFatPurse
BigFatPurse is made up of a group of Singaporeans who aim to raise the financial literacy of the working class. They have been doing this since 2007 through their weekly finance articles available freely at the BigFatPurse blog as while as through their regular finance workshops and courses.
---
---
Here's something you'd love: An employee engagement platform to spice up your work life! Get free and easy access to an extensive suite of corporate benefits – maximise your savings with discounted rates for fitness gyms, selected F&B outlets, optical chains and many more. Get these privileges here at fiit.sg!