Remember how we used to search for jobs using Google or flip the daily papers, only to find it awfully cluttered and disorganised? Argh. That mess.
Of course, we didn't mind much, as long as there are plenty of job ads out there, the eye sore is, well, worth tolerating. But why torture ourselves when there's something simpler and better on the mobile tailored for job seekers?
Yup, you heard us! Just a week ago, we were asked by Gumtree to try out their new app – Gumtree Jobs app. It's an app that can help fellow job seekers find better jobs with a simple interface and a well thought-through functionality.
After trying out the new Gumtree Jobs mobile app (for iOS and Android), we simply loved it! It was certainly easier on the eyes and super easy to use!
Also, did you know that Gumtree Jobs is the #1 platform for finding part-time jobs in Singapore? Yup, we're pretty sure you'll be able to find exactly what you're looking for.
If Gumtree Jobs app's characters are not exciting enough, their catchy jingle is sure to play on auto-repeat in your mind all day, like how it happened to us. Check out this video and you'll totally understand.
Warning: Cuteness overload and mind-etching jingle awaits.
How's It Different from the Gumtree.sg?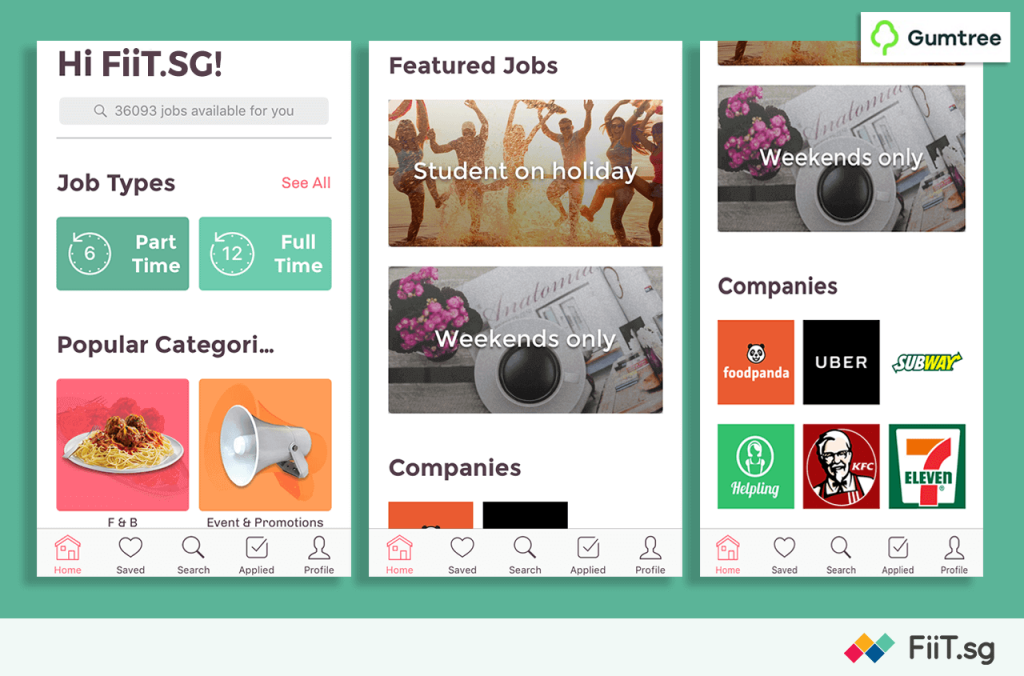 Home page of the Gumtree Jobs mobile app
Home page of the Gumtree Website (viewed on Desktop)
If you look at the new Gumtree Jobs app (for iOS and Android), you'll realise that it looks pretty different from the Gumtree website we're all familiar with. Why so? That's because it's optimised for job seekers to easily search and apply for their desired jobs on-the-go.
Job search can be anytime and anywhere now – on the bus, in the train, while queueing for lunch, and even while you're in the toilet! *Oops*
What's In The App?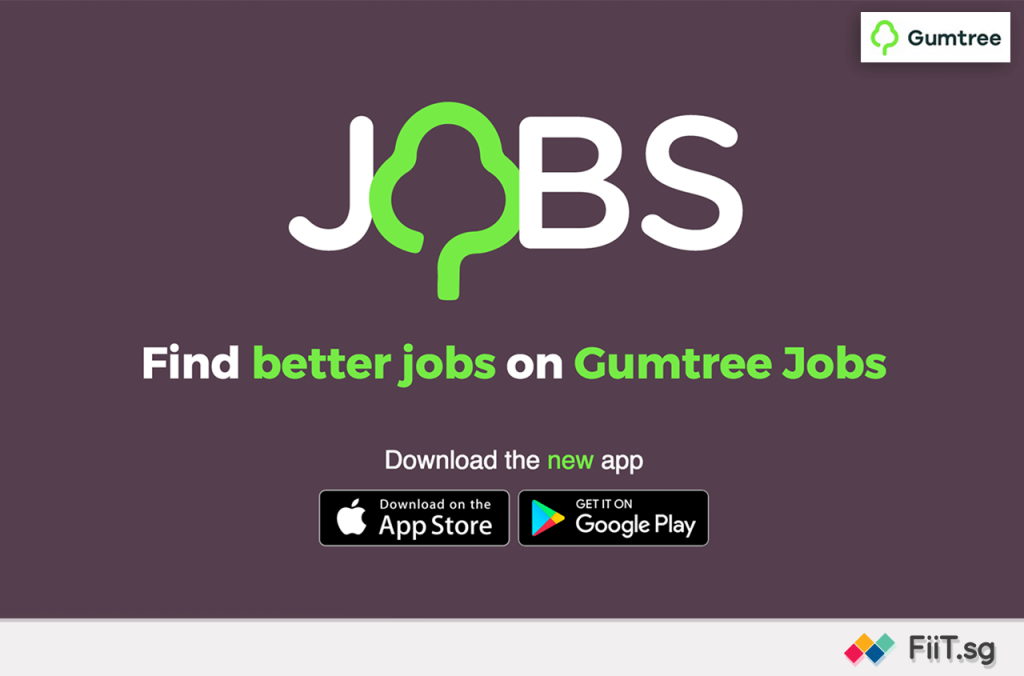 We loved how it's free on both App Store and Google Play with no troublesome signups. Just sign in with a Facebook account and ta-da, we were all done and ready to start using the app.
1. Find Jobs, Now!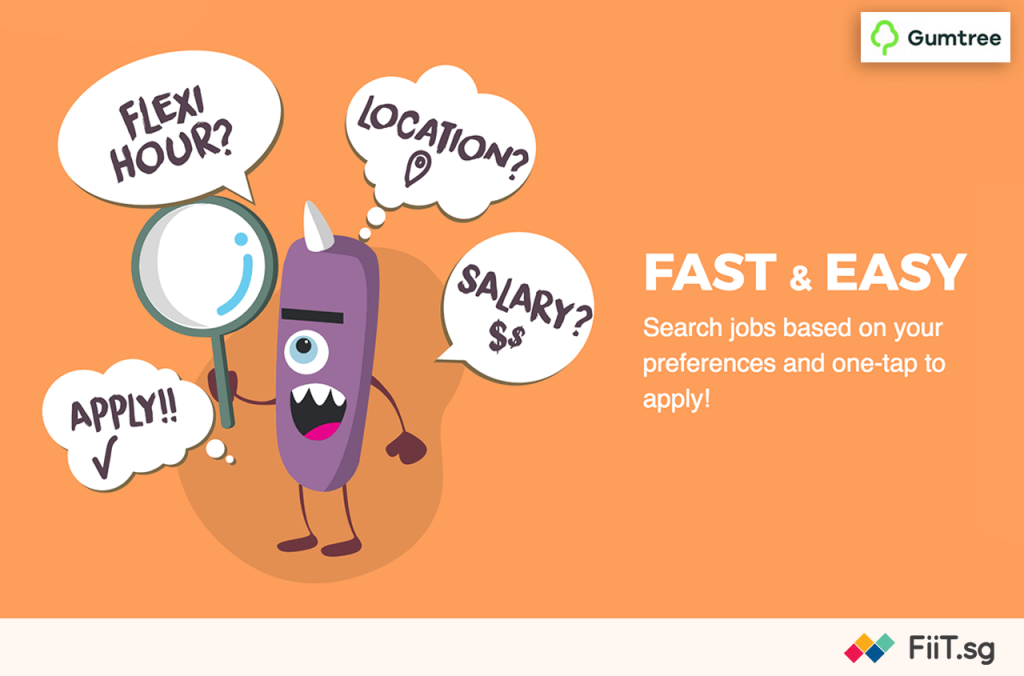 Unlike how jobs are pinned on all over online search engine sites, Gumtree Jobs app has everything organised. The search function has everything we needed to narrow the results without any hassle.
So, even if you are on a casual lookout for another job, this app can certainly come in handy!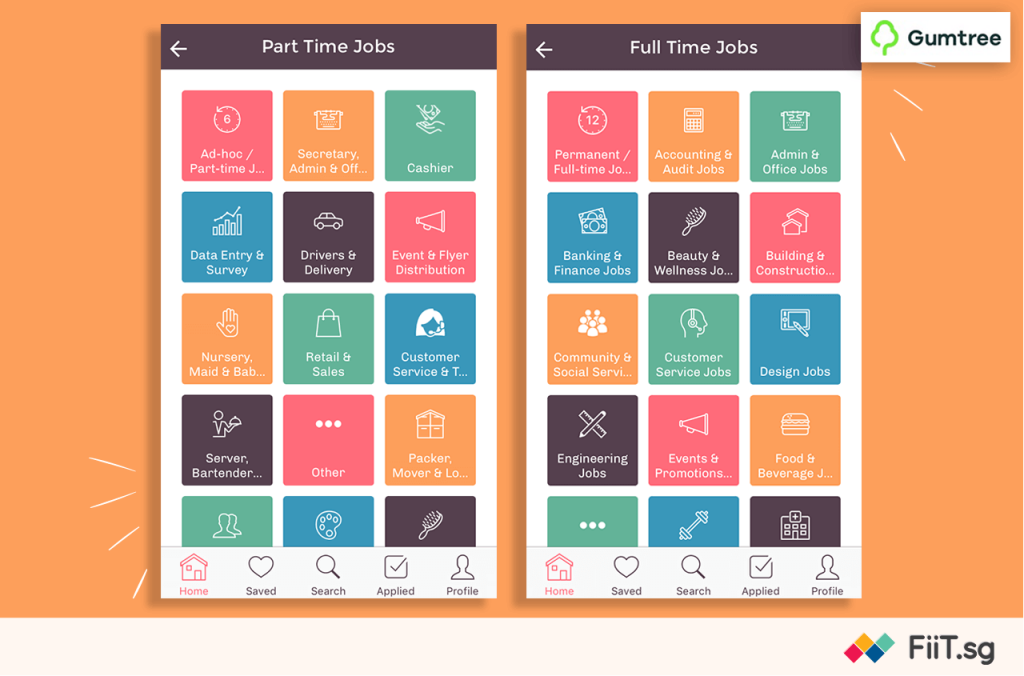 More than 15 categories (part-time jobs) and 33 categories (full time jobs)
After doing a quick count, we found 15 categories (for part-time jobs) and 33 categories (for full time jobs) available in the app. Wow, that's an impressive amount and we it'll probably grow in the coming months!
We felt that finding that desired job isn't so difficult anymore. Just select a preferred location and salary range and hit the search! We also used keywords in the search to fine-tune the search as, y'know, some of us may be looking for niche jobs.
2. Job Listings
Searching for your ideal job is so quick and easy
The Gumtree Jobs app search function is pretty instinctive too. One look and anyone would know how it works. Easy peasy!
Tip: More common keywords will show a longer list of job listings, so do try out a variety of different keywords to view all the options out there.
We had a good time scrolling through the listings – the clean layout makes it so easy to digest the information without our eyes feeling the strain.
3. Apply Away!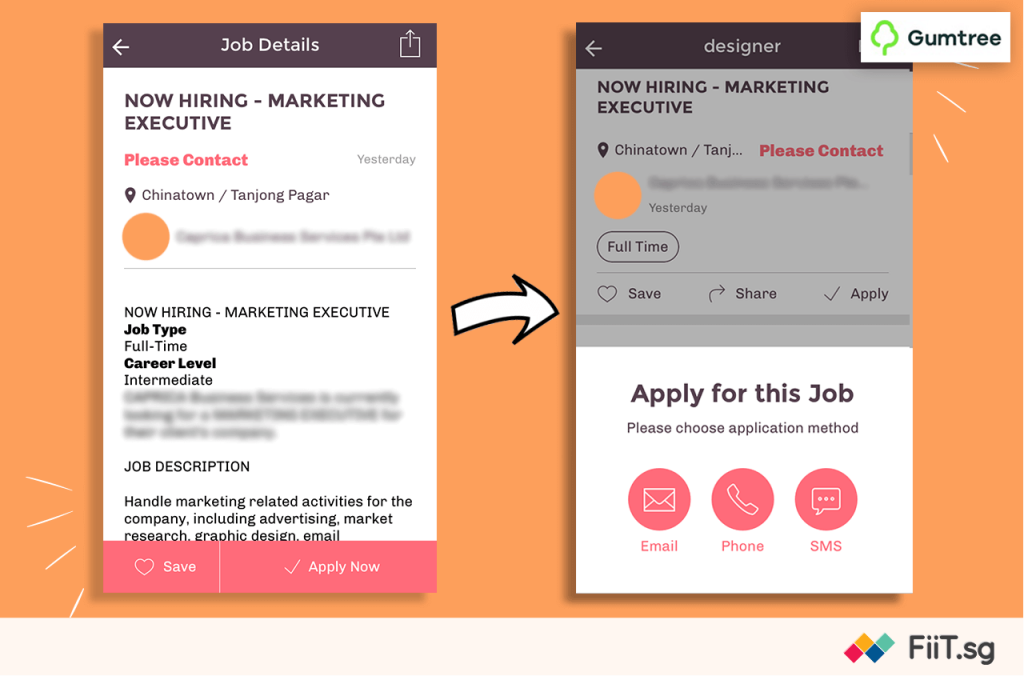 View job listings and apply for them with a tap
Now comes the part which makes our hearts race and palms sweaty – contacting the hiring managers. If you're shy to apply over the phone, you can always drop a SMS if the job listing provides that option. That's a pretty awesome option for shy people!
Tip: The buttons connect directly to the hiring manager! So, if you are sending your resume over, email is probably the best way to go. We definitely recommend all job seekers to include a cover letter in their application 😉
4. "Tell Me More About Yourself"
Yes, hiring managers are interested to know more about you 😉 Here's your chance to shine by filling up your profile with everything awesome.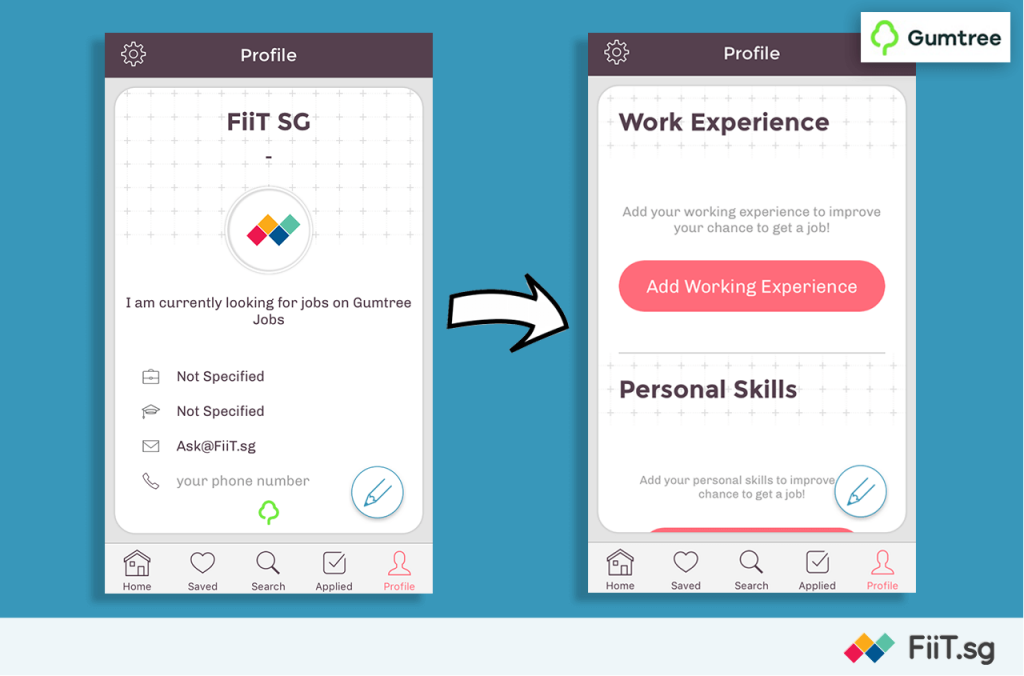 Complete your profile for better chances of standing out
We recommend all job seekers to update their profile as early as possible. This only took us less than 10 minutes, so if you have all your information at your fingertips, just speed-type them in.
Why is this important? Well, in case potential hiring managers saw your wonderful profile and are keen to call you up for an interview, they can easily reach you! 🙂
5. Love it? Save it!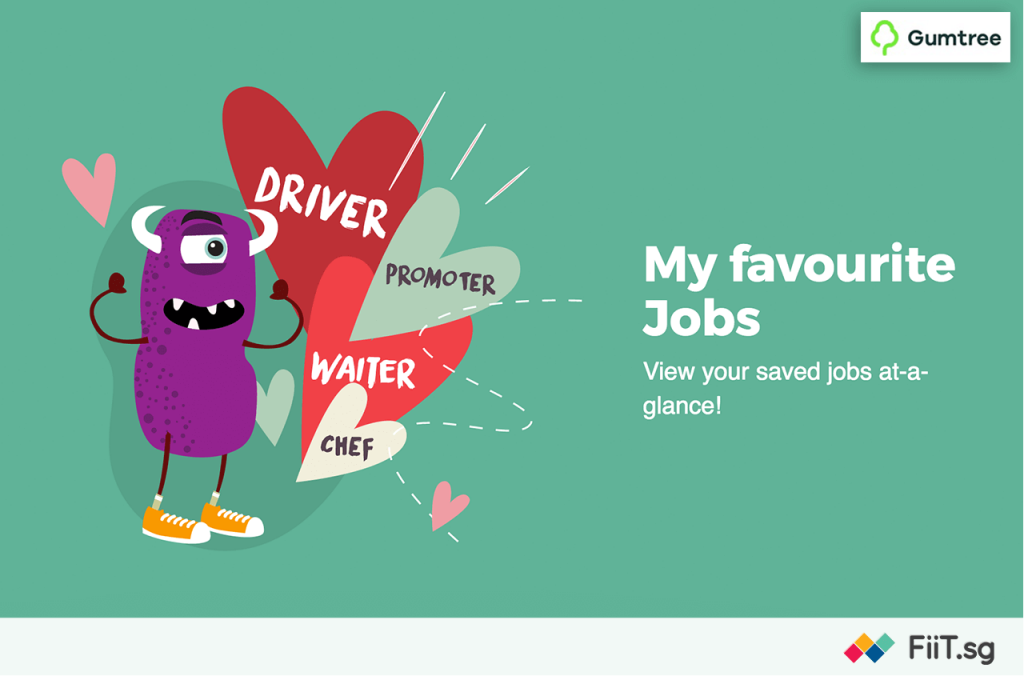 We saved about 20 job listings when doing an initial search without realising. It's as easy as bookmarking your favourite website – just spot that heart button and hit it!. We can't help but to save everything that's worth a second-look.
Trust us, this option will save you the headache of having to search all over again!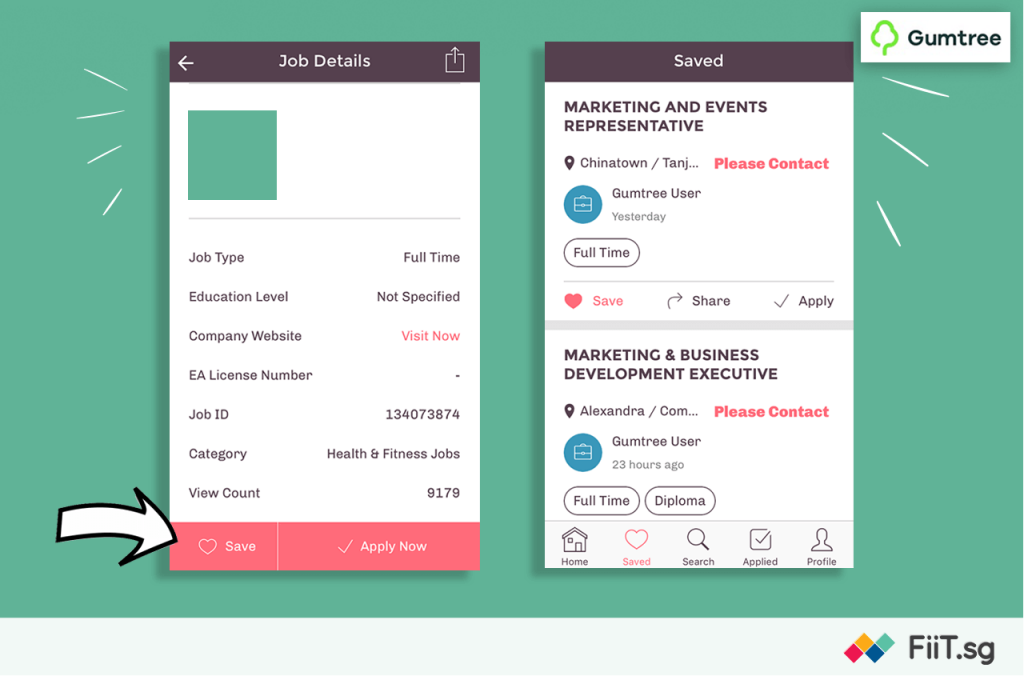 Saved jobs in the Gumtree Jobs app
In our honest opinion, this is perhaps one of the most useful functions for job seekers, especially if one prefers to do comparisons before deciding which one to apply to. 😉
6. Other Features
If you take a closer look at the app's home page, you'll find additional features that are worth exploring, such as Popular Categories, Featured Jobs and a list of Companies that has multiple openings in their organisation. Pretty cool stuff!
User Friendliness
The clean look and lack of clutter makes it easy to digest any information displayed, making the process of searching less painful to the eyes.
We also find the experience of using the app to be a pleasant one. You know, an app that you'll naturally know how to use it. Yup, that's how it is for all of us here at FiiT.sg!
We simply love the whole look and feel of the Gumtree Jobs app. It certainly does the job of helping job seekers find better jobs, by having listings organised and furbished with important information.
However, we found that some irrelevant results when we entered certain popular keywords into the search.
For example, when we entered "Designer" and selected "Central Location", results relating to Waitressing and Customer Service showed up. While this may not be a big issue for some (most of us would just scroll past it anyway), it can be affect the overall accuracy of searches in the long run when more listings are put up.
We believe that the team behind the app are working hard to ensure that the listing creation process is more detailed and avoid users from abusing keywords in order to get their listing to appear everywhere.




Love it, like it? Try the Gumtree Jobs app and let us know how you feel about it! Get it at App Store and Google Play now! 😉
Here's something you'd love: An employee engagement platform to spice up your work life! Get free and easy access to an extensive suite of corporate benefits – maximise your savings with discounted rates for fitness gyms, selected F&B outlets, optical chains and many more. Get these privileges here at fiit.sg!