With Valentine's Day being so close to Chinese New Year this year, there's barely any time to take a breather before it's full steam ahead to Vday 2016. I would know, I'll be overseas to visit my boyfriend's parents for one night, and when we land on the 14th, it's straight to my auntie's house for round two of steamboat. Plan ahead with FiiT's exclusive Vday promotions and discounts to ensure you have a worry-free Valentine!

---
For Your Pre-Vday Preparation:
1. Let your love for her blossom
Adorn your date with a bouquet of the freshest flowers to be found in town. Royal Blooms specialises in curating gorgeous masterpieces for any occasion. Featured are "City Chic" and "Red Rubies", all of which will complement her beauty perfectly.
FiiT Members Special: Unlock your voucher at get.fiit.sg to receive 15% off your order, plus free delivery for that element of surprise!
2. Get your nails done
There's nothing more satisfactory than placing an immaculate, finely arched fingertip on the balustrade and feeling like you're on the set of a classic Hollywood film. Get your nails done at 8Twenty8 Nails and get that lovely, dainty contrast of your manicured hand in his.
FiiT Members Special: Two special offers – The Classic Gel Manicure at $45 (UP: $60) and The Botanical SPA Mani + Pedi at $78 (UP: $130), exclusively at get.fiit.sg.
3. The gift of fragrance
Score the perfect Valentine's Day gift at PerfumeStore, the largest online perfume store in Singapore. In addition to the plethora of fragrances, they also stock makeup and skincare products. Our favourites are the value-for-money gift sets, ranging from "The Best of Lancome Fragrances 5PCs Miniature Gift Set" and "Anna Sui La Nuit de Boheme Edt 3 PCs Gift Set" to "Yves Saint Laurent YSL Baby Doll 4 PCs Miniature Gift Set".
FiiT Members Special: To get 10% all orders, just hop over to get.fiit.sg and redeem your voucher now!
On The Actual Day Itself:
1.  Let the good times roll at a retro cafe
Christina and Naomi are the duo behind the acronym CAN Cafe, a charming music-themed establishment that features retro paraphernalia. Their menu boasts several unusual drinks and fusion dishes, including Ice Cube Coffee, Pink Passion, Mexican Wave and Copacabana Beach.
FiiT Members Special: Flash your voucher from get.fiit.sg to enjoy 20% of ala carte menu items, and 2 for 2 beers!
2. All things sweet and gooey
The Ice Cream Chef's offerings are a sensory delight. Get up to some mixing fun with ice cream of every flavour you can imaginable. Local delights include "Kaya Lotee", "Honey Sea Coconut" and "With Love, Rose". What better day to indulge in your sweet tooth than Valentine's?
FiiT Members Special: Two different exclusive promotions to enjoy with the redemption of your voucher at get.fiit.sg. Enjoy a 1-For-1 deal with every purchase of a large cup of ice cream or 10% off when you purchase pints!
3. Unleash your inner Speed Demon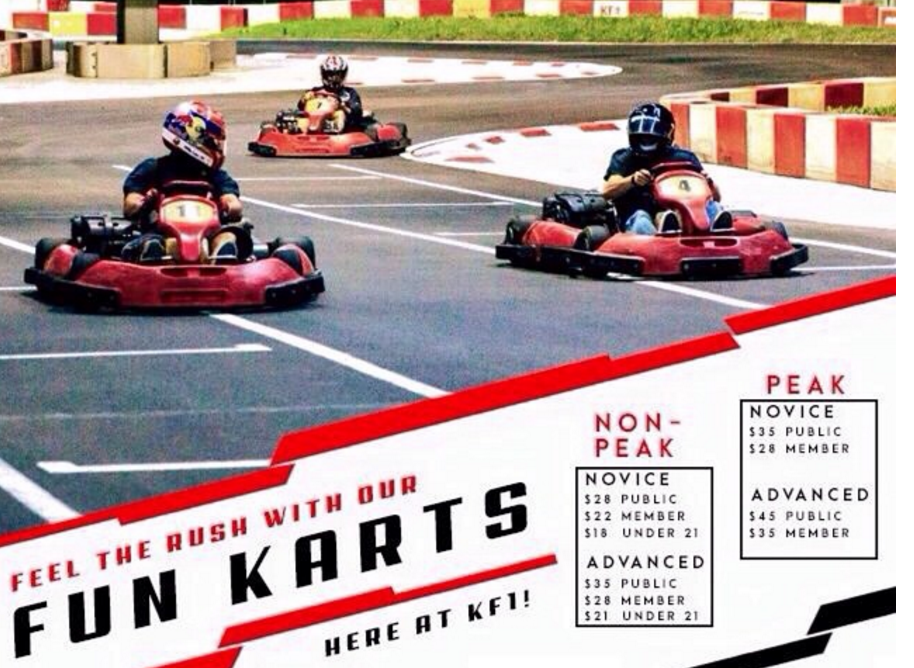 For a truly unforgettable Valentine's Day celebration, end your date with a lovers' showdown at KF1's go-karting circuit. Think Mario vs Princess Peach – She doesn't need to be saved, she's going to OWN Mario at what he does best.
FiiT Members Special: Get more savings with your exclusive voucher at get.fiit.sg and have hours of adrenaline-pumping fun with 15% off fun-karting hourly rental (for corporates).
Have a great Valentine's Day!
---
---
Here's something you'd love: An employee engagement platform to spice up your work life! Get free and easy access to an extensive suite of corporate benefits – maximise your savings with discounted rates for fitness gyms, selected F&B outlets, optical chains and many more. Get these privileges here at fiit.sg!