Widely known as one of the most beautiful cities in the world, London offers a plethora of activities, food and sights! Beyond the usual touristy attractions (e.g. taking photos with Big Ben) there are plenty more things you can do with a daily budget of 20 pounds. Yes, you heard that right. 20 pounds!





---
Time: 7AM 
What To Do: Get Discounted Tickets for a Play/Musical/Comedy
Tube Station: Covent Garden & Leicester Square 
Discounted/concession tickets generally range from 5-30 pounds, which is way cheaper than regular tickets. There are a few ways to obtain such tickets.
First, certain shows such as Matilda and Wicked (as at Summer 2015) offer discounted tickets for that day's show to the first few people (usually the first 15) in the line. Check the show's website to see if they offer such concessions! A second option is to search credible discount websites such as lastminute.com and  DiscountTheatre.com. Lastly, ticketing booths such as Leicester Square ticketing booths release discounted tickets as well, but make sure to go to legitimate booths. Good luck 😉
Available Balance: £20 – £5 = £15




---
Time: 11AM
What To Do: Have a 3 Pound Picnic and Play with Squirrels @ St. James's Park
Tube Station: St. James's Park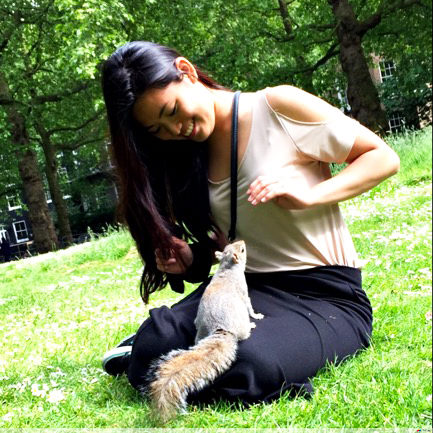 Time to reward yourselves with some breakfast after the 3 to 4 hours of hard work (queueing).
London's cool weather and beautiful parks are perfect for having a meal deal picnic. Meal deals are common in London and consist of 3 items; a sandwich/pasta , a drink and a packet of crisps/cookie/fruits. Sainsbury's offers 3 pound meal deals and 5 pound meal deals can be found at alternatives such as Tesco.
So here we are at St James's Park – well-loved by locals and it's easy to see why. Arguably, the highlight of the FREE-admission park is the daring squirrels that run and even climb onto you in search of nuts! Way larger than Singapore's squirrels, these adorable critters will melt anyone's heart.
Available Balance: £15 – £3 = £12




---
Time: 1PM
What To Do: Visit the Museums
Tube Station: South Kensington
Most museums in London are FREE and well worth your time. With options such as the National History Museum, British Museum and V&A, you'll be spoilt for choice. The National History Museum is a popular choice because of its dinosaur gallery!
Available Balance: £12
---
Time: 3PM
What To Do: Head to Platform 9 3/4
Tube Station: King's Cross St. Pancreas
All Harry Potter fans should head down to King's Cross Station to take a photo at Platform 9 3/4! Taking a photo with the trolley, owl and the works is FREE but be prepared to queue. If you have to pick up a souvenir, walk a little further to the Harry Potter Shop at Platform 9 3/4!
Available Balance: £12 




---
Time: 4PM
What To Do: Early Dinner at Camden Market
Tube Station: Camden Town or Chalk Farm
While Borough Market is a well known tourist hotspot, Camden Market is a strong contender. With shops selling accessories, clothes and all sorts of trinkets, it is easy to immerse yourself in the atmosphere and lose track of time here! Furthermore, delicious food such as spicy Caribbean jerk chicken wrap, homemade pies and mash, mac and cheese, and even asian food are sold here and cost around 5-12 pounds! (Oops sorry. No photos of our food as we were busy stuffing our faces!)
Available Balance: £12 – £12 = £0
---
Time: 7PM
What To Do: MATHILDA! 
Tube Station: Covent Garden & Leicester Square
Head back to Cambridge Theatre for Mathilda, yay! It is 2 hours and 40 minutes including the interval.
And there you have it! A one-day itinerary with just 20 pounds, excluding your tube fares of course! Do remember to go for an Oyster Card instead of paying as you go – you'll definitely save much more!
---
---
Here's something you'd love: An employee engagement platform to spice up your work life! Get free and easy access to an extensive suite of corporate benefits – maximise your savings with discounted rates for fitness gyms, selected F&B outlets, optical chains and many more. Get these privileges here at fiit.sg!